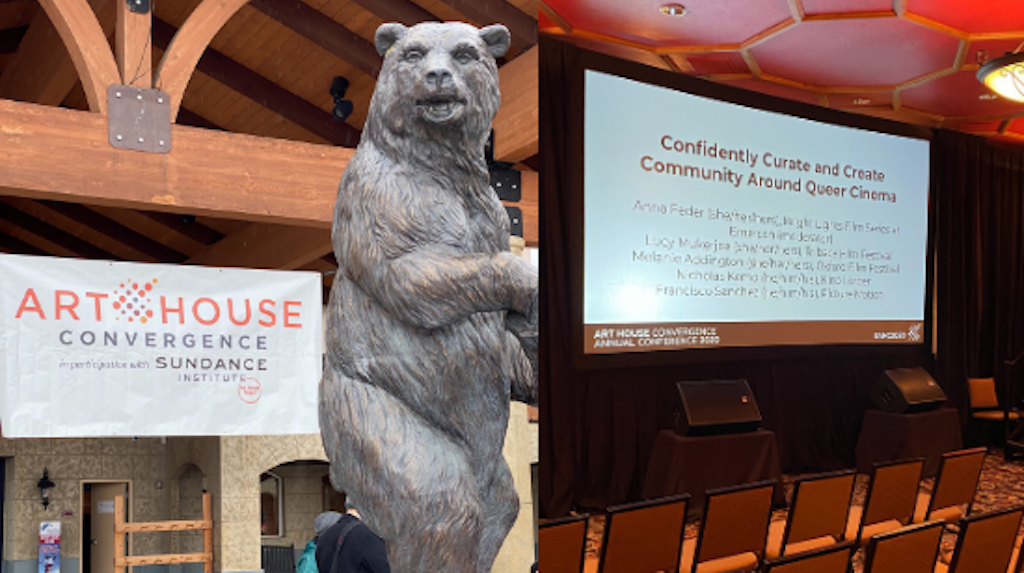 This month I participated in a panel discussion at the Art House Convergence titled Confidently Curate and Create Community Around Queer Cinema. The panel invited attendees to hear from a distributor, an outreach professional, an exhibitor, and an impact producer on how to identify affirming queer cinema, engage community partners with an eye toward intersectionality, and build an audience of both queer-identified folks and allies. The discussion was led by Anna Feder of Bright Lights Film Series at Emerson. Other panelists included Lucy Mukerjee, a film programmer from Tribeca Film Festival; Melanie Addington, the executive director of the Oxford Film Festival; and Nicholas Kemp from Kino Lorber.
Although the panel had a range focuses, each panelist emphasized the importance of building strong relationships within their organizations to reach queer audiences. I shared tactics on ways to reach out to organizations and groups that you may not be familiar with and how to foster those relationships. Each panelist emphasized the extra effort required to start and maintain these relationships, and I incorporated that messaging into an acronym to help audience members remember these tips when reaching out to organizations: W.O.R.K. (What/Why. Organize. Routine. Kindness.)
WHAT/ WHY
Make sure you have the answers to why you are reaching out to these organizations or groups and then following up with what you are wanting this organization or group to do. This is also the best time to share your expectations.
ORGANIZE
Be ready to deliver information and materials for these groups to distribute to their members. You are playing host and don't want to have your guests doing any extra work. Make your screening event easily accessible to navigate.
ROUTINE
All relationships need work in order to stay strong. Build and maintain your relationships by making it routine to stay in touch. Support their events and projects year-round. Don't only invite these organizations to queer related events. Queer people don't just watch queer films! This can be easy as sharing an events calendar or adding these groups to your newsletter list.
KINDNESS
Kindness to yourself through this entire process is important. This may be the first time your organization is attempting this outreach. Know that you may not have overnight success and that with continued attempts you will see your audience grow. Don't give up! Continue working on your relationships and your efforts will be recognized by others.
While there have been strides made in the field of queer cinema, we all acknowledge the extra efforts needed to help people confidently curate and create queer communities around the cinema. This is why moderator Anna Feder and the group Queering the Cinema are building a resource tool that will help exhibitors and programmers by providing queer film recommendations, LGBTQIA film programmers, and other helpful information to support arthouse theaters and festivals in programming queer content. For more information check out the and pages.
Francisco Sanchez is the coordinator for impact events at Picture Motion.