When I first learned that there was a new upcoming film about the late acting legend Leonard Nimoy, I knew I wanted to become a part this project. Known for his iconic role as Mr. Spock in the original Star Trek series, his character's famous message, "Live long and prosper," embodies both the character and the man. It is incredibly special to find such an intimate portrayal of someone like Leonard Nimoy, who dedicated himself so fully to both his professional craft and his personal convictions.
For January's Filmanthropy project, I am proud to support COPD: Highly Illogical — A Special Tribute to Leonard Nimoy, a new documentary that looks at Leonard's life, legacy, and his final years confronting a terrible lung disease: chronic obstructive pulmonary disease (COPD).
In 2013, Leonard Nimoy was diagnosed with COPD and used his personality and media attention to bring new public awareness to this tragic disease. It was his final wish to raise awareness around this respiratory illness, and after his untimely passing last year, his daughter, Julie Nimoy, and her husband, David Knight, set out to create a film to honor his legacy and carry out his final mission.
Why this Film?
I love science fiction – in a big way. Stories set on faraway planets and starring strange beings, like those from Star Trek, Battlestar Galactica, The X-Files, and Firefly, inspire one's imagination while often presenting challenging moral dilemmas and ethical issues. Through Leonard Nimoy's iconic character, Mr. Spock, on the original Star Trek series, a logical view was present in episodes where emotional reactions were driving the plot, championing rational thinking and providing reasoned philosophical arguments.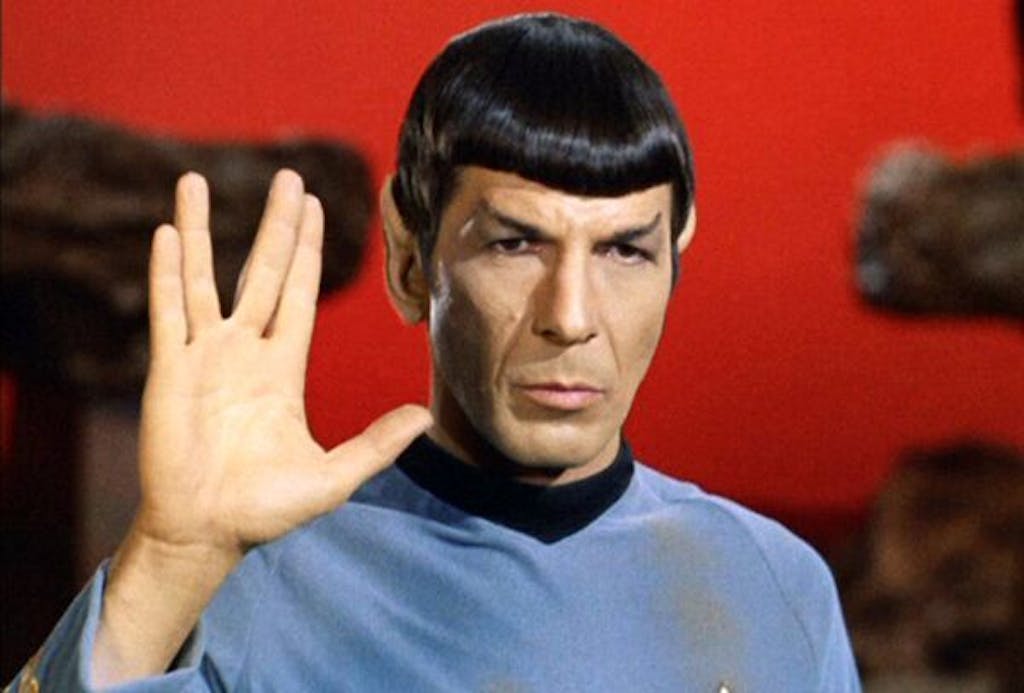 As the campaign manager on COPD: Highly Illogical's crowdfunding campaign, it's a great pleasure to share the story of the man behind the famous Vulcan Salute, and share his message to live long and prosper. This year marks the 50th anniversary of the original Star Trek series. And as the one year anniversary of Leonard Nimoy's passing approaches, the film campaign wanted to do something special to celebrate his life and legacy. We released a commemorative BitTorrent Bundle, which includes rare videos of Leonard, the film's trailer, family pictures, unique pieces of memorabilia from milestones in Nimoy's life, and shareable graphics – all of which is free to download here. While the untimely passing of a celebrity is always difficult, this film campaign creates a unique opportunity for Star Trek fans and the COPD community alike to honor the legacy of the great actor and advocate Leonard Nimoy.
I'm personally moved by this film, as I too have lost beloved family members to COPD. It's a debilitating disease that leaves slow, painful goodbyes in its wake. Having seen its effects firsthand, I'm hopeful that this film can help drive a much-needed tipping point in the public's awareness of this disease, and help people worldwide get screened and treated earlier.
What's the Impact?
Once this film is finished, Julie Nimoy and David Knight plan to make this COPD: Highly Illogical available for free. Given Leonard Nimoy's lasting popularity and essential place in pop culture, I believe this film will be a powerful, valuable tool for COPD awareness and help reach new audiences that might be challenging for medical and health services organizations to reach otherwise.
There's a great need for increased awareness, as COPD is currently the third leading cause of death in the U.S., and yet most people do not know about this disease. It's estimated that 24 million Americans have the disease, over 11 million of whom have yet to be diagnosed. COPD kills more women every year than breast cancer and diabetes combined, and 6.7 percent of adult women have COPD, compared to 5.2 percent of men. There is no cure for COPD, however its symptoms are much easier to manage when treated at earlier stages.
According to the COPD Foundation, smokers are at least 10 times more likely than nonsmokers to die of COPD, and women who smoke are 13% more likely. Additionally, 90% of all COPD deaths are from tobacco smoke causes, including secondhand smoke. By increasing awareness about the dangers of smoking and COPD, this film can help not only elevate understanding of its symptoms but also help inspire individuals to get screened for the disease earlier.
Get Involved!
With great campaign perks and exciting pieces of Trekkie memorabilia, there are many reasons to support this film. Join me in carrying out Leonard Nimoy's final mission to raise COPD awareness by donating to COPD: Highly Illogical on Indiegogo today: bit.ly/HighlyIllogicalFilm
You can also follow this film on Facebook and Twitter, and you can also help spread the word on social media using the film's Social Press Kit.
__
Alexandra Pearson: Campaign Director @AlexBPearson
With a diverse background in political campaigns, media advocacy, and journalism, and a deep passion for social justice and environmental issues, Alexandra is an asset to every impact campaign she's on. ​She has been with Picture Motion since 2013 and currently leads strategy and implementation for a range of impact campaigns. Most recently she ran the ​ broadcast premieres for​ The Lion's Mouth Opens (HBO)​ and The Homestretch​ (PBS)​, developed institutional and academic partnerships for The Whiteness Project, ​helped project manage the creation of an interactive game around Little White Lie, ​and developed ​a campaign engagement plan for Romeo is Bleeding. Prior to joining Picture Motion, Alexandra Pearson served as a Communication Specialist at the Weill Cornell Medical College's NYC Elder Abuse Center and a ​research assistant for ​authors Katherine Stewart​ and Mark Crispin Miller​. Alexandra received her MA in Media, Culture, and Communication from the Steinhardt School at New York University, where she focused on political persuasion and media systems. She also holds a BS in Political Communication from Emerson College in Boston. Alex has written on film and social action for The Huffington Post and ​PBS' Documentaries Blog, and guest lectured at General Assembly. She currently sits on both the Programming and Documentaries committees at NYWIFT. Alex is also responsible for developing the partnership between Picture Motion and The Door to create a New Media Career Fellowship position to help provide professional development opportunities for young adults who are currently out of work and out of school, many with insecure housing.