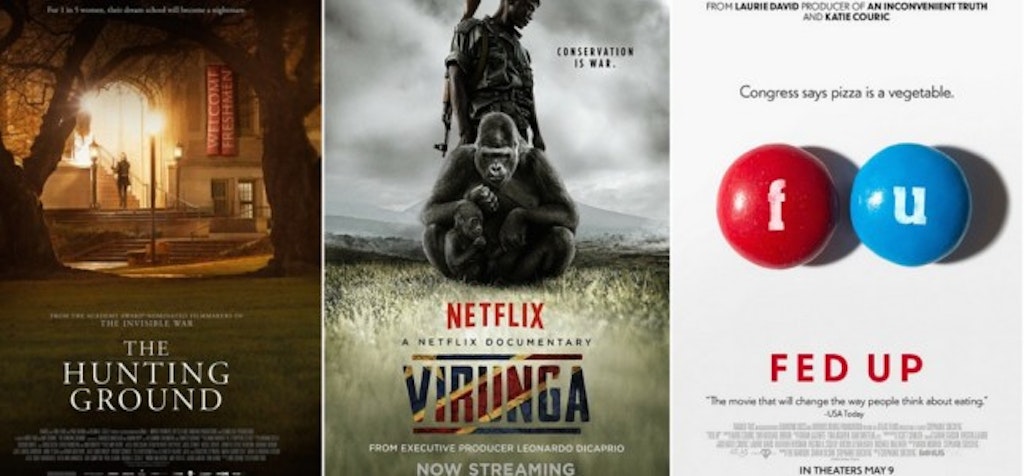 Even as big names see big business and accolades in doc film, PBS steps back.
This weekend The Hunting Ground, directed by Oscar-nominated filmmakers and distributed by RADiUS-TWC, opens in theaters. Fresh off it's 2015 Sundance festival premiere and kicking off what will be a powerful year in documentaries.
After a year of blockbuster social issue docs like Blackfish, CitizenFour, Fed Up, and Virungain 2014, it's clear that major distributors are taking notice. Sundance is the first major film festival of 2015, and it's long been the bellwether for the trends in independent film. With an increase in support from big names like Netflix, The Weinstein Co., CNN and A&E, who see the value of these films in both in their bottom line and cultural influence, its all the more strange that the industry is losing support from one of its oldest allies: PBS.
This year, four documentaries covering social issues, The Hunting Ground,Cartel Land,Welcome To Leith, In Football We Trust, came to Sundance with a distribution plan in place and many more films left with new distribution deals including:
3 1/2 Minutes: A powerful film about the shooting of 17 year-old Jordan Davis and the subsequent trial, which explores systemic bias within the American criminal justice system, will be broadcast by HBO with a preceding theatrical release.
Cartel Land: The Orchard acquires theatrical and digital rights to accompany existing A&E IndieFilms broadcast release of this gripping documentary following the battle between border vigilante groups and Mexican drug cartels.
City of Gold: Picked up by Sundance Selects, this documentary looks at Pulitzer Prize-winning food critic Jonathan Gold and his efforts to revolutionize the way that we consume food, and ultimately understand culture and community.
Dreamcatcher: The film, which follows former prostitute-turned-advocate Brenda Myers-Powell and her tireless work supporting and empowering often under-aged sex workers, will be broadcast by Showtime.
Hot Girls Wanted: Acquired by Netflix, this documentary pulls back the covers on the amateur porn industry and its exploitive practices.
Racing Extinction: The Discovery Channel picked up all rights and committed to a U.S. theatrical and 220-market broadcast for this documentary by the Academy Award-winning director of The Cove. The film examines global threats to endangered species, and contributing factors like poaching and carbon emissions.
The creation of these films are a reflection of our society's values and concerns, and their acquisition is a commitment to the belief that there is an audience ready to consume them.
These sales are great news for those in the social impact community who believe that stories, particularly those told through the lens of talented documentary filmmakers, will catalyze change. With the sale of these social impact films, so early into 2015, we will likely an upswing in the investments that distributors and filmmakers make in seeking new stories that bring about social justice.
Major media companies, including CNN, Netflix, Conde Nast, and Al Jazeera, are shifting to make documentaries a significant part of their programming, proof of the success and growing influence of social issue docs. So why is PBS is now threatening to remove support from P.O.V. and Independent Lens, two prestigious documentary series? Once one of the lone, brave channels providing support for documentary films — financially, as well as pushing forward social impact and community engagement work — this move away from prime time programing threatens to leave a large gap in the documentary space. P.O.V. and Independent Lens have won countless accolades for PBS, provided crucial funding, and not to mention public access, to important, game changing films like Food Inc, Bully, The Invisible War, Hell and Back Again, Roger and Me, The Act of Killing and countless others.
In many ways, PBS is much like the Sundance Film Festival for young filmmakers. Their support not only provided national media attention, but lifted up new and courageous documentarians often tackling difficult subjects that would be otherwise overlooked. Frederick Wiseman, Michael Moore, recent Academy Award-winner Laura Poitras, Albert Maysles, Nina Davenport, Alex Gibney, and Stanley Nelson are just a few of the successful filmmakers that PBS documentary series have supported. These films and filmmakers are not isolated to PBS, but they represent the documentary community as a whole, and their films are stories of people from all walks of life.
The question is, will the team at PBS watch the rise of these social issue docs this year, and hopefully many more to come, and remember how important their role has been, and what may be lost with this change. Without their historic support, there may not be great films for these new distributors. The success of a film like Virunga on Netflix paves the wave for the release of What Happened, Miss Simone?, and the success of The Invisible War on Independent Lens paves the way for The Hunting Ground to be released through RADiUS and CNN.
The current reasoning to move the series has been lack of substantial viewership. But the demand for this content is there. Fed Up cracked the all-time top 10 on iTunes. Blackfishsparked a nationwide phenomenon through its CNN broadcast. Citizenfour just won the Oscar. So perhaps the station should take a page from some of the new doc distributors, and instead look at how they are branding and marketing this series and its films.
Integral to the marketing of these social issue films is providing filmmakers with the resources needed to build social action campaigns. Something that PBS has truly led the way on, and will be another loss to the industry if their support for documentary film continues to wane. As we have seen with many of the great successes of 2014, a social action campaign contributes not only to the long-term impact of the film, but to the film's sustainability beyond the initial release, which ultimately contributes to your bottom line and financial success. Just look at Fed Up.
2015 will be a year that defines the future of impact film. And we hope that means renewed support in P.O.V. and Independent Lens, continued investment in documentaries from distributors, and substantial support in accompanying impact campaigns.
Here's how all of us can support impact film right now:
SEE The Hunting Ground in theaters this weekend.
WATCH CitizenFour on HBO.
SIGN the petition to support Independent Lens and PBS.
STREAM any social issue documentary you want!
__
By Darcy Heusel, Senior Director of Campaign Strategy (@darcyheusel)
Darcy's expertise in impact film stretches from social media and online engagement to film marketing and distribution. Her projects at Picture Motion include Fed Up, American Promise, Bully, The Crash Reel, and Herman's House. Previously, Darcy was the Director of Programming and Marketing at Constellation.tv where she oversaw business development, client relations, social media and digital strategy. While there, she also directed new media events for The Vow, Magic Mike, and films from the Criterion Collection. Prior to Constellation, Darcy was Director of Acquisitions and Marketing at Screen Media Films where she acquired and oversaw distribution (Theatrical, DVD, VOD, Digital and more) and marketing for over 50 films. Darcy serves on the advisory board for the Minority Independent Producers summit and volunteers in her free time with Ghetto Film School NYC. Darcy graduated with a BA in political science and writing from Washington University in St. Louis.