Every month, Picture Motion sends a newsletter email update to highlight the latest and greatest news from our many wonderful film projects. Learn more about the incredible impact these films are having and join our newsletter mailing list to get involved!
A Note from PicMo
With only 4 more days remaining in March, this newsletter is dedicated to celebrating strong women during Women's History Month and beyond!
It sometimes feels like each day, there are even more articles about the lack of female representation in Hollywood, Broadway, and other media communities. While it is imperative to keep learning and sharing these discussions, at times the statistics can be demoralizing. But these results also keep us motivated to do better. With organizations like the Geena Davis Institute on Gender in Media devoting their time and resources to this cause, the proof is out there: Representation in our industry needs to be drastically adjusted to reflect the beautiful diversity in our overall society.
Picture Motion is proud to champion equal representation daily. From sharing articles that highlight the work of female creatives on our Twitter feed, to working with companies that support female directors, producers, screenwriters and more – we are constantly inspired by our peers. Becoming an ally is a process with no expiration date, as we should keep learning and growing every day. As Women's History Month comes to an end, Picture Motion challenges you to join us and continue empowering women in media all year long.
Inspiring Partnerships with THE ZOOKEEPER'S WIFE
In THE ZOOKEEPER'S WIFE, Jessica Chastain portrays the real-life story of Antonina Żabińska, a working wife and mother who became a hero to hundreds during World War II. In 1939 Poland, the Warsaw Zoo was flourishing under Antonina's care and her husband, Dr. Jan Żabiński's stewardship. When their country was invaded by the Germans, the Żabińskis covertly began working with the Resistance to smuggle Jews out of the Warsaw Ghetto and hide them in the zoo, with Antonina putting herself and her family at great risk. This captivating film shares important lessons on bravery and compassion that feel particularly timely. Picture Motion is proud of our key partnership between THE ZOOKEEPER'S WIFE and the International Rescue Committee, as the world faces its worst refugee crisis since World War II.
With the support of the IRC and numerous Jewish organizations including HIAS, Hillel, BBYO, JCC, the Jewish Federation and more, Picture Motion has coordinated various advanced screenings of the film nationwide. One example is a recent event with the Anne Frank Center, the IRC, and the Museum of Jewish Heritage who hosted a screening of the film in NYC. The event was moderated by Steven Goldstein, Executive Director of the Anne Frank Center and panelists included THE ZOOKEEPER'S WIFE director Niki Caro; screenwriter Angela Workman; Jessica Chastain; and IRC Board Chair Emeritus, Sarah O'Hagan. Screening attendees were inspired by both the film and passionate panel discussion afterward that highlighted the importance of standing together in times of division. Don't miss THE ZOOKEEPER'S WIFE in theaters on March 31st! Learn more about our partnership with the IRC.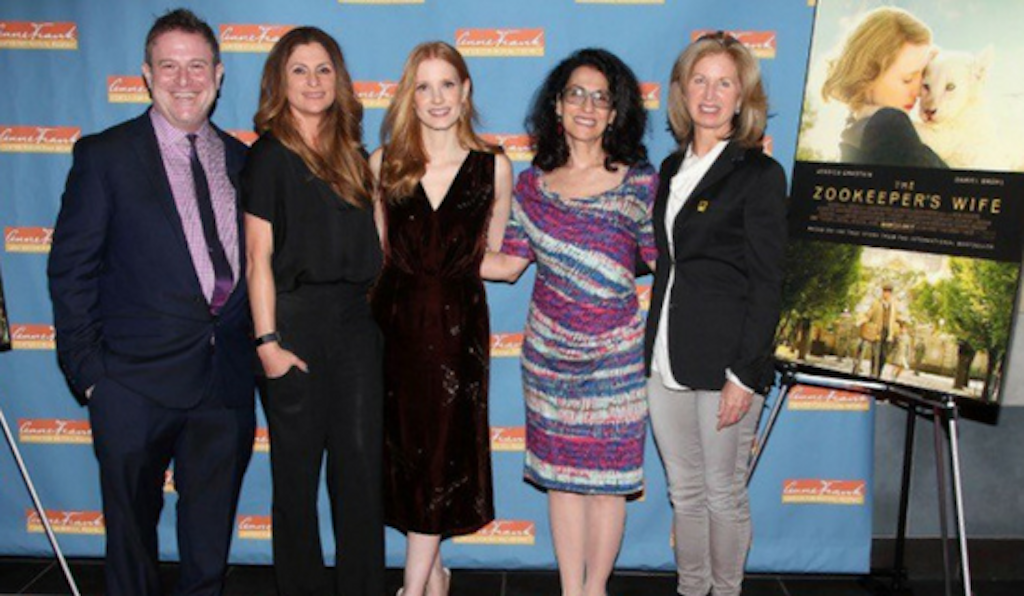 Combating Corruption with BETTING ON ZERO
From 'Darfur Now' writer/director Ted Braun comes a riveting docu-thriller BETTING ON ZERO which follows controversial hedge fund titan Bill Ackman as he puts a billion dollars on the line in his crusade to expose Herbalife as the largest pyramid scheme in history. Lauded as a film that lobbyists don't want you to see, BETTING ON ZERO has captivated audiences. As part of Picture Motion's campaign for BETTING ON ZERO, we worked with the team at Gunpowder & Sky to create bookmarks that can be easily printed and handed out to audiences after they've seen the film. This bookmark, available in English and Spanish, highlights what to look for if someone is ever presented with a business opportunity that seems like it may be too good to be true. For example, definitions of important terms like "pyramid scheme" and "multi-level marketing companies" (MLMs), as well as a series of questions someone should ask themselves before getting involved with a company that may resemble Herbalife in its structure. We are sending these bookmarks to hosts of past and upcoming screenings, as well as to organizations that work in communities that are most vulnerable to MLMs. Learn more about BETTING ON ZERO here.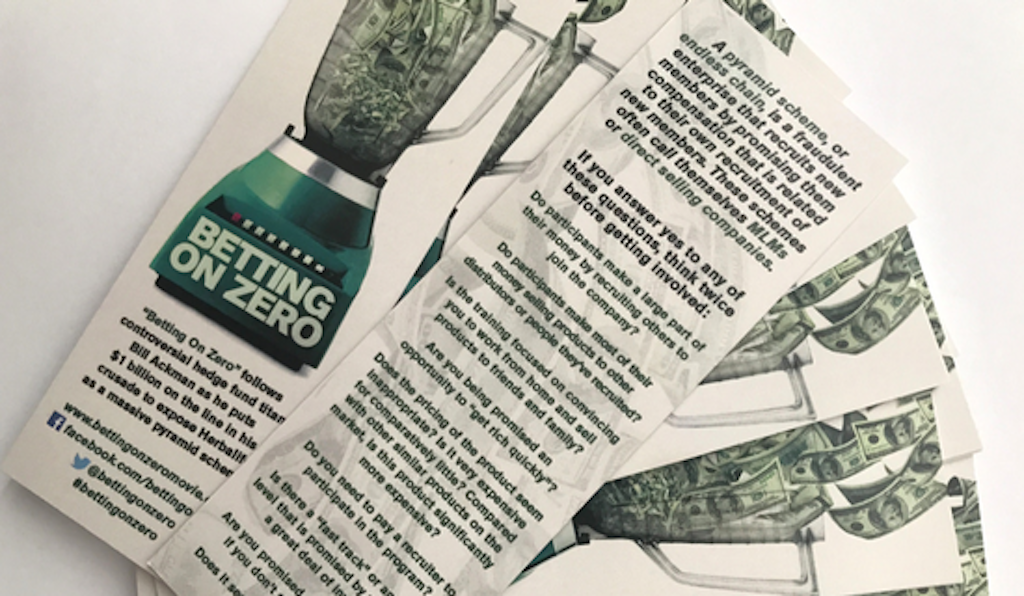 FINDING OSCAR in Washington D.C.
Last Thursday, Picture Motion produced a special advance screening of FINDING OSCAR at Busboys and Poets in Washington D.C. in partnership with ProPublica. FINDING OSCAR parallels a 2012 story written by ProPublica senior reporter Sebastian Rotella and Fundación MEPI reporter Ana Arana entitled, "Finding Oscar: Massacre, Memory and Justice in Guatemala," part of a project that won a Peabody Award (for a presentation of the story that ran as an episode of This American Life). The film depicts an amazing investigation to find a missing young boy named Oscar was spared from a massacre during Guatemala's civil war, only to be raised by one of the very soldiers who killed his family. Nearly 30 years after the tragedy, a dedicated team – from a forensic scientist to a young Guatemalan prosecutor – uncovered the truth. The sold-out screening was followed by a conversation with Kelly Fry, attorney at U.S. Department of Homeland Security, Human Rights Law Section; Geoff Thale, program director at the Washington Office on Latin America; and Kate Doyle, senior analyst of U.S. policy in Latin America at the National Security Archive and moderated by Sebastian Rotella, senior reporter at ProPublica. Watch the trailer for FINDING OSCAR here.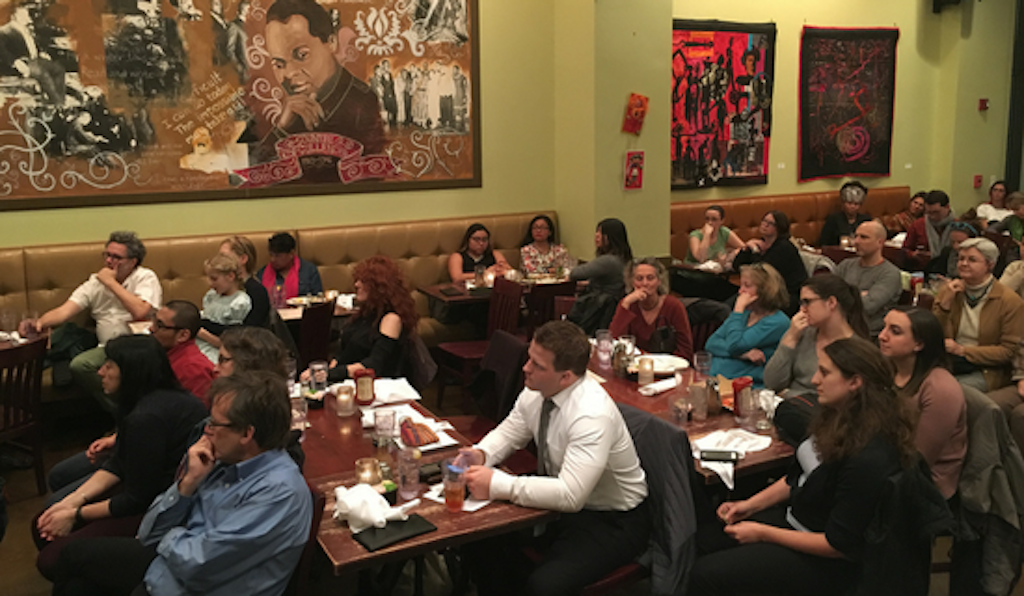 #RevolutionForDummies With Bassem Youssef
We are knee deep in serious social issues on a daily basis, so sometimes we just need to take a break and have fun. Luckily, PicMo friend Bassem Yousef was launching his book in NYC last week, and we got to do both! Dubbed the Jon Stewart of the Arab World, Youssef was the host of the Middle East's first political satire TV show Al-Bernameg that reached 30 million viewers every week, before being terminated in 2014. Now living in exile in the US, Youssef is the host of Fusion's Democracy Handbook. At the event, he introduced his new book, Revolution for Dummies: Laughing Through the Arab Springand discusses the role of propaganda and satire in the making of the modern Middle East. Picture Motion had a blast laughing and learning alongside the engaged audience at The Town Hall. Bassem Youssef's knack for sharp commentary is undeniable and we can't wait to read his book!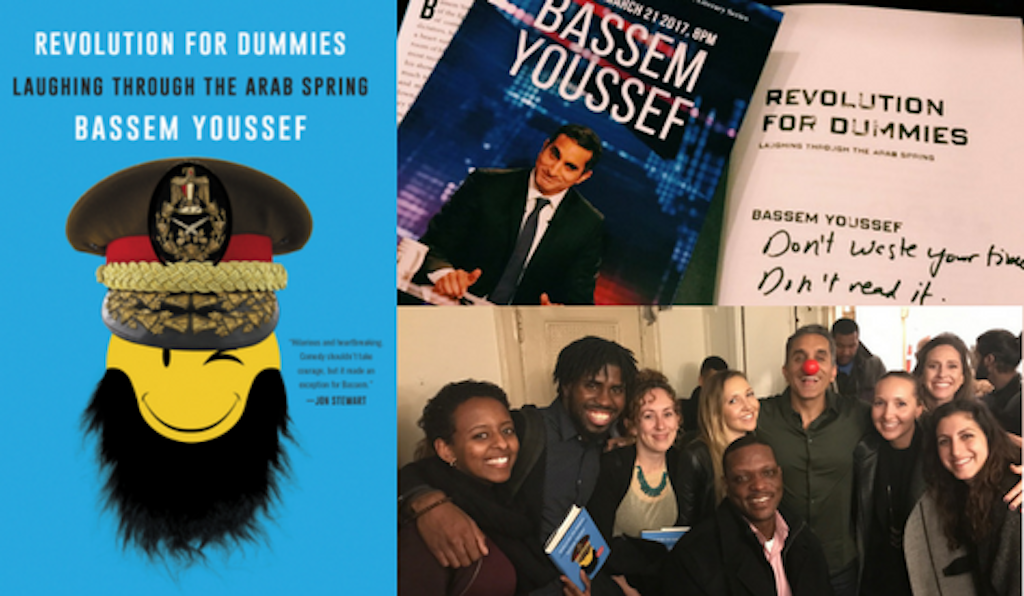 Celebrate Passover with a free Haggadah insert created by THE ZOOKEEPER'S WIFE, The IRC, and HIAS. This supplement connects the story of Passover to current humanitarian issues and offers meaningful ways to take action.
Give a Facebook Like to FROM THE ASHES before their Tribeca Film Festival premiere.
Vote for Picture Motion at Code Interactive's Diversity in Tech Awards in the Media category! We are honored to be in great company, alongside Buzzfeed, Great Big Story, NationSwell, Comcast NBCUniversal, The New York Times, and The Washington Post.
2 new staff members joined the Picture Motion team!
8600+ people watched the trailer for FINDING OSCAR.
200+ free screenings were organized for AMERICA DIVIDED.
Now playing:
Coming soon:
Watch these films right now:
18 Women Filmmakers On Gender and Representation In Hollywood
(Jarett Wieselman, Buzzfeed)
Netflix Casts a Wider Net for Original Documentaries
(Glenn Kenny, New York Times)
IMDB rolls out new Feminist 'F-Rating' to highlight women in film
(Louise McCreesh, Digital Spy)
Crusading Doc "Betting on Zero" Showcases the Long Fight Against a Pyramid Scheme
(Daphne Howland, The Village Voice)